CREATIVE DIRECTION, SITE ARCHITECTURE, GAME DESIGN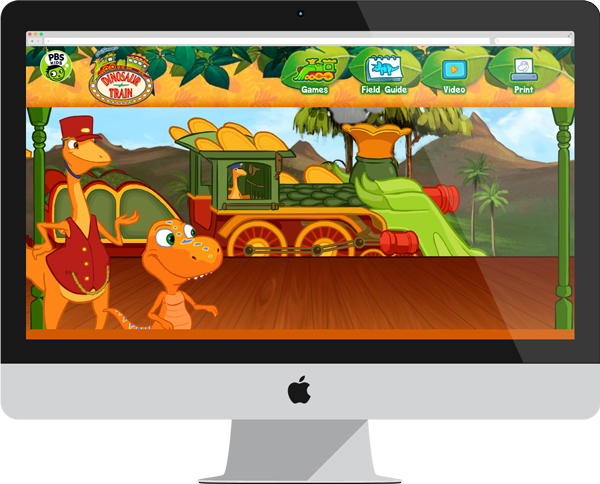 Backstory
Dinosaur Train was The Jim Henson Company's second CGI-based series for PBS. It tells the story of Buddy, a preschool-aged T-Rex adopted by a Pteranodon family. Henson wanted a website that let kids explore Buddy's world, a prehistoric hub to Triassic, Jurassic, and Cretaceous eras.
The project had to balance the branding and curricular needs of two giants: Henson and PBS. And it had to move forward at Velociraptor speed to launch before the show.
What I did
TAKE BABY T-REX STEPS
I first wrote a creative brief to get buy-in on style and site organization. My focus was to get the biggest bang for the budget. Rather than spend money to match the show's 3D characters, I worked with artists to develop a '2D plus' style. We delivered a model sheet; Henson approved it. We were able to stay faithful to the character look at a fraction of the cost.
We placed the spend where it mattered most to kids: the games. But what kinds of games? The show was written to spark interest in natural and life sciences. The bar was set. Each game had to be fun, repeatable, and distinctly scientific. 
LIKE THIS…
Hungry Hungry Herbivore packed a lot of science into a simple scroller. As kids stomp forward tearing shrubs out of the ground, they understand that:
Triceratops lived in a pre-grassland environment
Triceraptops were plant-eating herbivores that consumed a lot of food (just like cows)
Triceratops lived in herds which may have protected it from predators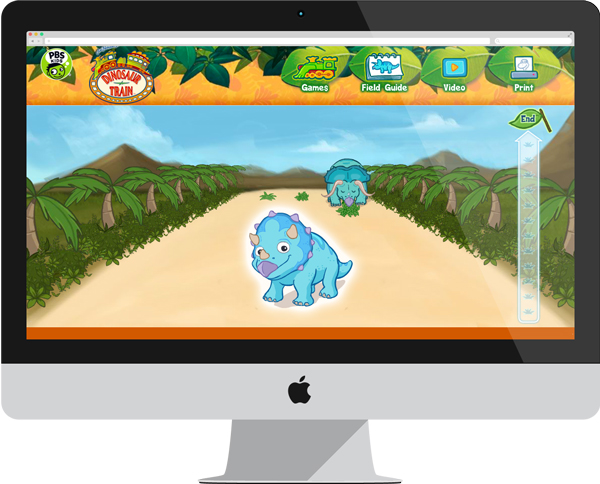 OR THIS…
A non-game, I pitched a dinosaur Field Guide for a few reasons.
First, anyone with a heartbeat wants to know: How big am I compared to a dinosaur? And would it eat me?
Second, I wanted an easily updatable activity to sync with broadcast schedule. Each week, Buddy met a different dinosaur. Template-based, it was easy to add a new dinosaur to the guide.
I researched and wrote script to be voiced by star paleontologist Dr. Scott Sampson. His voice was part of the show's brand. A fantastic addition to the site.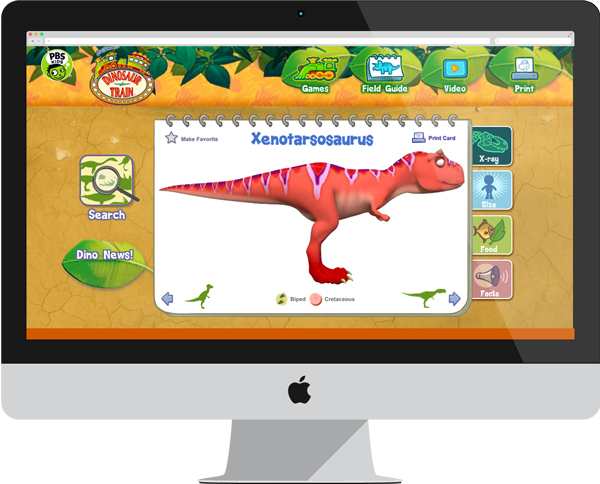 Rip-roaring results
The Dinosaur Train site has had over 2.7 million video stream requests, and our public launch was only one week ago. This is an incredible debut online! The show doesn't even air until Monday."
— Sr. Director, PBS KIDS
KUDOS
PRIX JEUNESSE Interactivity Prize

iKids Best Website (Preschool)

Parent's Choice Award (Silver)