BUSINESS STRATEGY, UX DESIGN
Backstory
Triumph Learning's primary business was making test prep workbooks. They needed to become a contender in digital learning—and fast.
In 2012, most U.S. states were on the verge of switching to new learning standards—the CCSS. These standards shifted the emphasis from test prep (Triumph's bread and butter) to just-in-time digital practice. Triumph had a brief window to catch up.
What I did
I crafted the vision for Waggle, an adaptive learning platform. Teacher and student dashboards would be free. Then schools would be able to purchase learning packs to plug into the system.

The student dashboard helped kids prioritize their work. A unique meter, hosted by Cloudy, quantified score and effort—supporting a growth mindset. The solution was fresh; the business model sustainable.
Process
DISCOVERY
I interviewed Triumph's front line, marketing and sales, to understand branding and distribution requirements. I then interviewed customers to understand their attitudes toward Triumph. "Trustworthy, but boring."
Customers were open to a product shift.
Personas crystallized. One key insight? This product wasn't just for struggling students. By making Waggle adaptive, we'd challenge proficient learners too.
I hung up persona posters. I distributed product 'trading cards', giving marketing and sales early campaign language.
Jake, 12
Even though I'm a decent test taker, I always forget what I've learned by the next day. Nothing sticks."
DESIGN
I sketched this flow, giving the team a common vocabulary to discuss the project. It made potential issues visible. For one, we learned that allowing kids to bookmark (or 'grab') content would skew the recommendation engine.
At the same time, I designed drag-and-drop authoring tools. This template supports click-to-fill prompts: Plant beans in 2/3 of the field.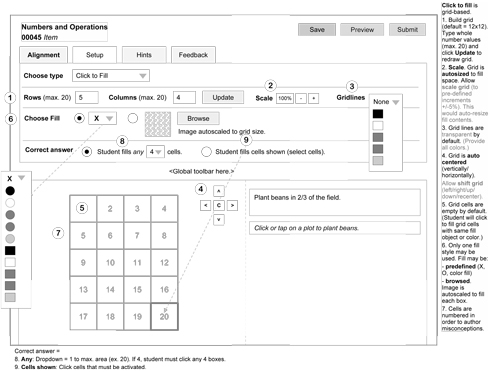 This template supports graphing prompts: Draw a line of symmetry through the figure. It even supported prompts with more than one solution: Draw a parallel line.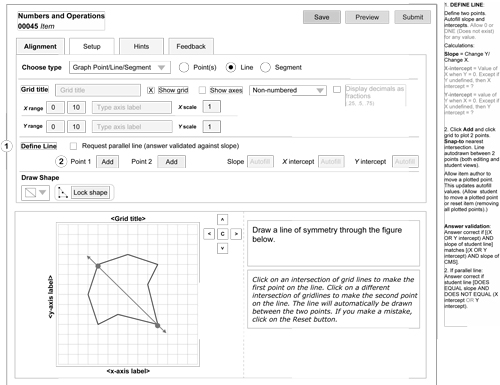 A Boolean interface made it possible to tailor feedback to a variety of student responses. Getting tailored feedback helped students unstick themselves.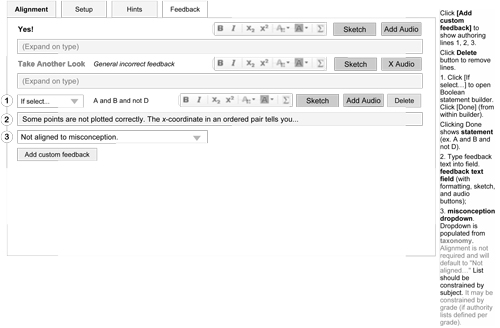 Finally, I worked with editors to understand their workflow—laps and handoffs. The team was anxious about changing their print-based process. So I crafted a flow that would feel familiar out of the gate.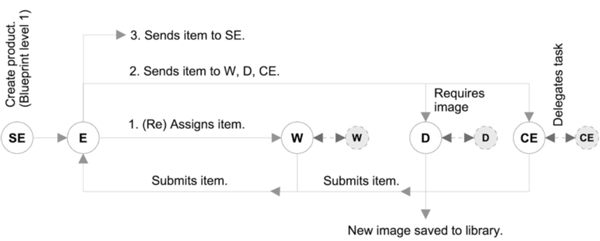 Result
Triumph introduced Waggle in 2014. The final product supports adaptive learning and rapid content authoring. Triumph's factory floor was reconfigured to support always-on publishing.
KUDOS
Purchased by Houghton-Mifflin Harcourt in 2019
2016 CODiE Award
Teachers Choice Award, Learning Magazine
Best in Show (ISTE) by Tech & Learning
Bill & Melinda Gates Foundation Grant
EDDIE Award